Steve Mau, ARA's 61st president: Creating more awareness about the rental industry
Steve Mau, ARA's 61st president: Creating more awareness about the rental industry
January 1, 2023
At the conclusion of The ARA Show™ 2023 in Orlando, Steve Mau, president, Brainerd General Rental, Brainerd, Minn., will become the 61st president of the American Rental Association (ARA). Mau, who had no previous experience in the equipment or event rental industry, acquired the company in 2002 when a college friend convinced him that he should own his own business.
"He's a serial entrepreneur and one of those friends that poke and prod you," Mau says. "We were looking for a good place to raise our family and find a business that could support us to do that. My wife's folks and my folks both lived in Minnesota and we wanted to be north of the Twin Cities. We looked at convenience stores, car washes and more when my college friend ran across Brainerd General Rental. We bought it in April 2002," Mau says.
While Mau's parents were born and raised in Minnesota, his father was a Navy fighter pilot and moved to California where he and his older brother and younger sister were born. The family moved to Florida and then back to Minnesota when the kids were teenagers.
"I wanted to be a professional baseball player or an astronaut, but neither one happened," Mau says, adding that he did play football and baseball at Gustavus Adolphus College, a Division III college in Saint Peter, Minn., where he majored in organizational management with a minor in communications.
His wife, Maureen, went to school on a Reserve Officers' Training Corps (ROTC) scholarship and was transferred to Germany when she graduated. At the time, Mau was working for a company that had its global headquarters in The Netherlands, so the couple lived in Europe for two and a half years before returning to the U.S., where they landed in Chicago and had three children, including Austin, now 26, who works at Brainerd General Rental; Annika, who turned 25 in November and is the amateur scouting coordinator in baseball operations for the Minnesota Twins; and Ryan, who is 21 and is attending college in Florida, majoring in aviation sciences with the intention of becoming a commercial pilot. Mau also served as a vice president of sales for Dean Foods, which was founded in 1925 in Franklin Park, Ill., when the company was merged and moved its headquarters to Dallas. Mau moved there for four months before he and Maureen decided to own their own business and made the deal to acquire Brainerd General Rental. "We had three kids who were six, five and one at the time. We had to decide whether to move to Dallas or do something completely different. We moved to Brainerd, which is where the kids were raised, and they consider this their home. The rest is history," he says.
Mau says he and his family have attended The ARA Show for years, starting in 2003. It was Mark Gilbertson, ARA president in 2017, who first asked Mau to serve on ARA's Equipment Rental Shared Interest Group (SIG). He became the Equipment Rental SIG chair the next year in 2018, served as an ARA Executive Committee member in 2019-2021 and was a member of the ARA Technology Advisory Group starting in 2020. Mau spoke with Rental Management about becoming ARA's 61st president, the evolution of his equipment rental business, challenges the association faces for the future and more. An edited version of that conversation follows.
Rental Management: You have been involved in ARA leadership as a chair of the Equipment Rental SIG and currently as ARA president-elect. Why is serving the association important to you and Brainerd General Rental?
Steve Mau: I was asked if I was willing to donate time on a shared interest group committee and thought, "Yeah, that sounds fun." It's a chance to meet people from across the country. We had been attending The ARA Show for years, but once I was more engaged and you begin to learn what the association has to offer, it sounds cliché, but you get more out of it than you put into it. That was the case for me. We've been doing this for 30 years in this location and doing things the only way we knew how to do them. Being more involved in ARA is important for us because of the opportunity to learn from your peers across the country. You learn more about the rental industry whether it is event or equipment and how we can do things better and how we can make our business better.
Rental Management: Brainerd General Rental was listed as a Rental Management Market Mover for 2022 with rental revenue growth of 29.6 percent from $1.8 million in 2019 to $2.3 million in 2022. How were you able to achieve that growth?
Mau: We had the perfect storm for our business. It has been a function of the last 20 years where every three or four years, we have done something to expand. It may be adding a new product line, becoming a dealer for a brand, acquiring a competitor or buying adjacent land to expand our footprint. Three years ago, we built a new facility. That was part of the continual evolution of Brainerd General Rental. When we did that, we enhanced our exposure locally. With the pandemic, we know what transpired with more people working remotely. We are located about two hours north of the Twin Cities area in Minnesota. Many of those who vacationed here moved here because they could work remotely. We had a huge influx of new customers and new opportunities at the time that we opened the new building. All of this led to the growth we have had over the last three years. For us, with the company being around for 30 years, it is harder to get those jumps in revenue. A startup can go from zero to something and show significant margin or percentage growth, but we had a base that jumped. We were super fortunate with all the people moving into our market and what we built worked the way we hoped it would work.
Rental Management: What have you learned during your year as ARA president-elect?
Mau: When you talk about technology, you look at the early handheld devices and how cool that was to how it has evolved into what we have today. The equipment and event rental industry has that same feel. There has been this slow roll in terms of the industry's evolution that over the last three to five years has accelerated. The industry has consolidators and national players who are using more technology. Everything in our business is more sophisticated. Manufacturers are providing equipment with telematics, and we have all this data we can use to analyze and manage our businesses. There are new ways to interact with customers, like social media and online marketplaces. The transactional experience between ourselves and our customers continues to change. There is more information now for our staff to utilize to fix and repair equipment. From my perspective, ARA has been the leader and at the forefront of helping us to navigate all this rapid change in our industry and it will only happen faster as we move forward. You know how you are just waiting for the new refresh or software update in technology? It feels like the rental industry is waiting for what is next and it will happen quickly. Hopefully those of us in the industry will be proactive and responsive enough to capture that significant opportunity. I have three kids who have grown up in this world of technological innovation. I don't know that I have sleepless nights about this, but I think a lot about how we, as an industry, talk to that audience. That generation is our customer and certainly our future customer. I am excited about ARA getting us exposure to what is new, different and where we are going so that we are ready for the future.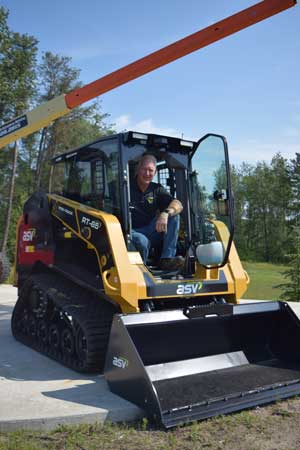 Rental Management: How do you describe Brainerd General Rental and what sets you apart in your market?
Mau: Our biggest differentiator is active engagement in managing fleet. We aim to turn our inventory quickly. We try to keep everything clean and professional. We take pride in the fact that people who may have come into our old building 20 years ago can come into the new building and see the same faces. We also are actively engaged and participate in the communities where we live and work. We also continue to always look at how we can do things better. The feedback we get typically is good and affirms that our customers like the way our business is run. If they want a face-to-face handshake transaction with paper or if they want a touchless contract emailed and signed on a smartphone or tablet, we are meeting them where they are at. We don't say, "This is the way we've always done it." We are looking for new and better ways to do things and that separates us.
Rental Management: When you think of a general rental center, you think of things like hand tools and smaller items, but in today's marketplace, a general rental center's inventory has expanded to larger equipment. Is that the same for you?
Mau: In the disposable economy, people can buy an inexpensive tool and own it, so we have moved away from some things. For items like aerial equipment, skid loaders and telehandlers, people aren't writing a check to buy those in most cases. They rent them. We have migrated our inventory. We still have jackhammers and some smaller items, but our mix is larger and tailored to the community. There are lots of trees in the area, so we do rent stump grinders, chippers and aerial lifts and the big dollar, larger equipment is more prevalent in our inventory mix.
Rental Management: Brainerd General Rental powered through the pandemic with significant revenue growth, so what is your greatest business challenge today?
Mau: We have been fortunate with the staff we have, and we'll always take on more great people, but finding employees will be the challenge moving forward. Another challenge that's not new is the availability of parts inventory and finished goods. We have equipment on order from the middle of 2021 that we are waiting on. That means we have aged equipment more in 2022 than we have in the past for skid loaders and aerial equipment, but our crew is making sure it can still perform. We do have lots of buyers for things we would typically move at this time, but we can't. If we sell the equipment, then we're losing out on the rental income.
Rental Management: What do you see as the challenges for the association moving forward?
Mau: Consolidation and industry growth is a challenge since the backbone of the association is individual operators with one or two stores. So, how does the association appeal to the larger players and have solutions to their problems and continue to attract the individual startups? There is the potential for the equipment and event rental industry to go the way of the family farm, so we have to be cognizant of how the association can help individuals build, get to scale and be relevant in their marketplace with resources like technology information, data, education, training, certifications and more to bring the industry up so that the customer interactions are positive. Also, how does the industry evolve in an environment where everybody is willing to rent everything? There is an app to rent a personal vehicle. There is an app to rent homes, kayaks or pontoon boats. How does that thought process evolve in society and permeate our industry? If you want to rent a 60-ft. boom, you're not going to get that from your neighbor's house. There are limitations, but this is something to think about. My kids are in their 20s. They think differently in transactions with products they need and as a consumer. They look at how to cut out the middleman, how to save a buck and how to make things more efficient because they have technology at their fingertips, and it is available as an app. We have a generation raised with a certain mindset and we, as an association, need to be prepared to support the evolution of the industry.
Rental Management: When you complete your year as ARA president, what would make you feel like you had a successful year?
Mau: I am excited about what's next, how we interact with the customer and how the general public perceives our industry. The awareness piece is the part I get excited about. Do people know what the equipment and event rental industry is about? If you ask 100 people today about how they define rental, people think of renting a car or a house. A few might say equipment or things for a party. I would really like to see a wave of recognition in our communities about what the event and equipment rental industry is about. When they think of rental, they think of us and that they do not need to own the things we rent. Our industry has a huge role to play in the mindset of today's consumer. Our opportunities and future are very bright. Being successful would be by creating more awareness of what we do. The rental solution is not a foreign concept that people cannot grasp. I think what we do dovetails perfectly into the mindset of the younger generation. We need to be able to leverage what is a favorable position in the marketplace and educate the public about what we offer and how it already fits into what they are thinking.
Rental Management: What message might you have for your peers as the incoming ARA president?
Mau: Always continue to look for the next opportunity for growth for yourself and your business. We are well positioned as an industry for today's marketplace. When we look at technology, the next generation and the circular economy, folks are looking for ways to be more efficient and manage their life. We are in a great spot to help with that, and the association is a great opportunity for you to be connected to people in the industry who are seasoned veterans or people who are looking at it with new eyes for the first time and have a great new perspective on how we can grow our businesses. Being a part of the association is the only way you can do that.
---
Company profile
Brainerd General Rental
Brainerd, Minn.
History: Brainerd General Rental was founded in 1993 as an independent equipment rental company located on an acre of land with frontage on Minnesota Highway 371. Steve Mau, president, acquired the company from its original owner in 2002, building it up to a business that had more than $2.3 million in rental revenue in 2022 and has rental inventory with an estimated value of more than $5 million.
"The process we looked at is evolutionary of how our business has grown. When we started, we had a little over an acre. We acquired a local competitor in 2008. Then in 2012, we acquired an adjoining piece of land that was about four acres so that we had a five-acre parcel. The plan and the vision was to utilize the space and put up a building that was intended for our business," Mau says. "We worked out of a building that at one time was Taco Town, a restaurant on the outskirts of town where people went for great tacos. Then it became a restaurant supply store, a wholesale parts business and those kinds of things. When it became Brainerd General Rental in 1993, it was an old building that was repurposed to be an equipment rental store. We always knew we needed to build something that is designed for us in terms of a showroom area, storage area, a place for service and part inventory, and more," Mau says.
"We began to dream about what this building would look like. We toured a bunch of stores. We had input from the peers we met through the American Rental Association (ARA). From that, we built this new facility in 2019. It has allowed us, I think, to be more visibly present in the community and solidified our spot in the marketplace. We were no longer this rundown rental store that started in 1993. Some people noticed us for the first time, which is amazing because we are located on what is considered in our area to be a busy highway. For some people, it was like, 'Oh, there is that rental store.' And we already had been here for 30 years," he says. Mau says the timing of Brainerd General Rental's expansion also coincided with population growth that now exceeds 20,000 in the area that includes both Brainerd and Baxter, which is about a two-hour drive north of the Twin Cities metropolitan area.
Facility: Main building is 5,000 sq. ft. on five acres of land. "We moved in on April 19, 2019. On the day we moved into the new facility, we rented equipment out of the old building in the morning, but by the afternoon we were operational in our new building with our computer and phone systems. We literally did not have to close to move," Mau says.
Inventory: Construction equipment including skid steers, excavators and aerial lifts, concrete, floor care, lawn and garden, painting, plumbing as well as a limited amount of event equipment.
Staff: 14 full-time and part-time employees.
Celebrating 30 years in business in 2023: "We threw a big party for our 25th anniversary and we have another big one planned for our 30th to thank our customers, especially those who have been using us for 30 years, and also our employees. We have a lot of employees who have been with the company for more than 20 years, so we will be celebrating the longevity of all of that," Mau says.
---
Bringing people together
Outside of serving as president of Brainerd General Rental, Brainerd, Minn., Steve Mau says he loves the water.
"It's peaceful for me. Growing up in California and Florida, we would go to the beach. We are fortunate to live on a lake here in Minnesota. Having a gathering at our house or on the boat is the perfect day for me," he says.
He also enjoys golf and reading as pastimes, but "what charges me up is having people come together."
---
Getting an introduction to rental
Steve Mau admits he knew nothing about the equipment and event rental industry when a college friend helped convince him to own his own company and found Brainerd General Rental for sale in 2002.
"I knew less than zero about the industry. I was involved in some mergers and acquisitions when I worked with Dean Foods. I had some familiarity with sales and running businesses, so I was comfortable enough with the nature of the business," Mau says.
However, Mau, in fact, had not even been in a rental store or rented equipment before he had acquired the company in Baxter, Minn.
"That same friend had a trucking business at the time. He said he would drive down to us with a semi and move us to Brainerd. He came to our house in Lake Zurich, Ill., and asked if we also planned to move the in-ground basketball hoop. He said, 'Do the new people want it?' I called and they didn't really want it, so I told them I would move it, replace the dirt and seed it so that they would never know it was there," Mau recalls.
"I went to what was then a Taylor Rental store in the area that now is a part of RentalMax. I rented a 70-lb. electric jackhammer. I laugh about this now because I was the guy coming into the rental store less than three hours before closing who said I would have the equipment back before they closed. We hammered out the concrete, loaded the basketball hoop in the semi trailer and had the jackhammer back to the rental store on time before they closed. Now, I get a laugh when someone comes in just before we close because I know what it's like on their side, so we try to take care of them the best we can," Mau says, adding that he did install the basketball hoop at their first home in Baxter and that it is still there to this day.