Stemar Equipment & Supply Co. celebrates milestone - 100 years in business and still going strong
Stemar Equipment & Supply Co. celebrates milestone - 100 years in business and still going strong
For Stemar Equipment & Supply Co. in Los Angeles, it all began a century ago in 1922.
"My great-grandfather immigrated from what is now Croatia, through Ellis Island in New York and then he hitchhiked across the country and landed in California in 1922, where he started a blacksmith shop. He made custom tools, but mostly sharpened picks, axes and shovels until my grandfather, Steve, joined the business in 1953," says Tim Markonich, general manager and great-grandson of founder Joseph Markonich.
Steve, "more of a businessman than his blacksmith father, saw the possibility of selling the items they were sharpening and servicing," Tim says. "He contacted manufacturers, such as Cooper Tool Group, California Hardware, Union Pick & Hoe and other small American companies. He started a missed-sales list and made sure it was used. If there were enough requests on the list, we got it in and started selling it."
In the 1960s, his grandfather met with larger manufacturers, including Speed Shore, about underground utility work. "Their aluminum hydraulic trench-shoring equipment was a new safety device that OSHA [Occupational Health and Safety Administration], shortly thereafter, required to be used. It was a good business decision to get into a new safety market where the product itself is a requirement to have. He invested almost all of his capital in this one manufacturer. He bought hundreds of aluminum speed shores. Because of the price, he didn't sell any, though," Tim says.
A turning point came in 1964, when, with no sales and with debts piling up, a customer came in wanting to rent 50 shores. "My grandfather tried to convince him to buy them, offering payment plans, etc., but the customer left, wanting to rent to stay within his budget. When the customer came back the next day, my grandfather changed his tune and was ready to start his first rental agreement. When the customer brought the equipment back, my grandfather made $4,500. He looked at the product and saw that it was still like new. His famous quote in our family is: 'That is when the light turned on. We are now in the rental business,'" Tim says.
The Stemar aluminum trench shores.
His grandfather never looked back, converting everything the company sold to being available for rent.
It was during this time that the company also changed its informal name of "Ditch Diggers" and their slogan of "Digging a ditch? Call Markonich" to their current name of Stemar Equipment & Supply Co.
"It is the first three letters of my grandfather's first and last name," Tim says. "While we love the name now, my grandfather did tell me that renaming the company was the worst business mistake he made. He said he regretted changing from something very industry-related to something that someone who doesn't know anything about the company wouldn't know what it means from the name."
But the name hasn't stopped the company from becoming a leader in pipe plug and pipe-testing equipment, including keeping in stock everything required to perform high- and low-pressure tests for pipes ranging from 1 to 96 in. in diameter.
"We have the biggest inventory of high- and low-pressure pipe plug and pipe-testing equipment in the United States," Tim says.
Another claim to fame is the company's flagship product that was invented by Tim's grandfather, which was later manufactured by another company for a private label.
"We call it the Stemar Bypass. It is a unique product that allows you to do a sewer bypass job — temporarily diverting the sewer flow from where it normally goes to somewhere else. The product is able to be installed and the bypass performed without any need for expensive machinery or pumps. There are basically two ways to do a bypass job. One requires expensive machinery, pumps and 24/7 monitoring. This gravity-style bypass is much lower in cost and requires no 24/7 pump monitoring to divert sewer flow. We have equipment for both methods of sewer bypass as well as an array of professional underground utility and demolition products," he says.
Tim, along with his father, Steven, who serves as company president, and his brothers, Kevin and Lucas, are now at the helm, running the operation that boasts 20 employees, many of whom have been with the company for at least 10 years.
The company's focus, since its founding, has been the care and service of employees and customers. "My grandfather told me the No. 1 thing is to take care of your customers and employees, and everything else will come naturally," Tim says. "I was always raised that one of the biggest accomplishments we can have as a company and a family is to keep our family of employees gainfully employed so they don't have to worry about not receiving a paycheck or making a mortgage payment. Throughout the recent pandemic, we were able to keep all of our employees employed — no layoffs or hours cut."
Stemar Equipment serves all sizes of underground utility contractors, municipalities' public works departments and such. "Our customer base includes mom-and-pop-type plumbers, small contractors with one or two crew, other rental yards and some of the largest underground utility work companies in the world," Tim says.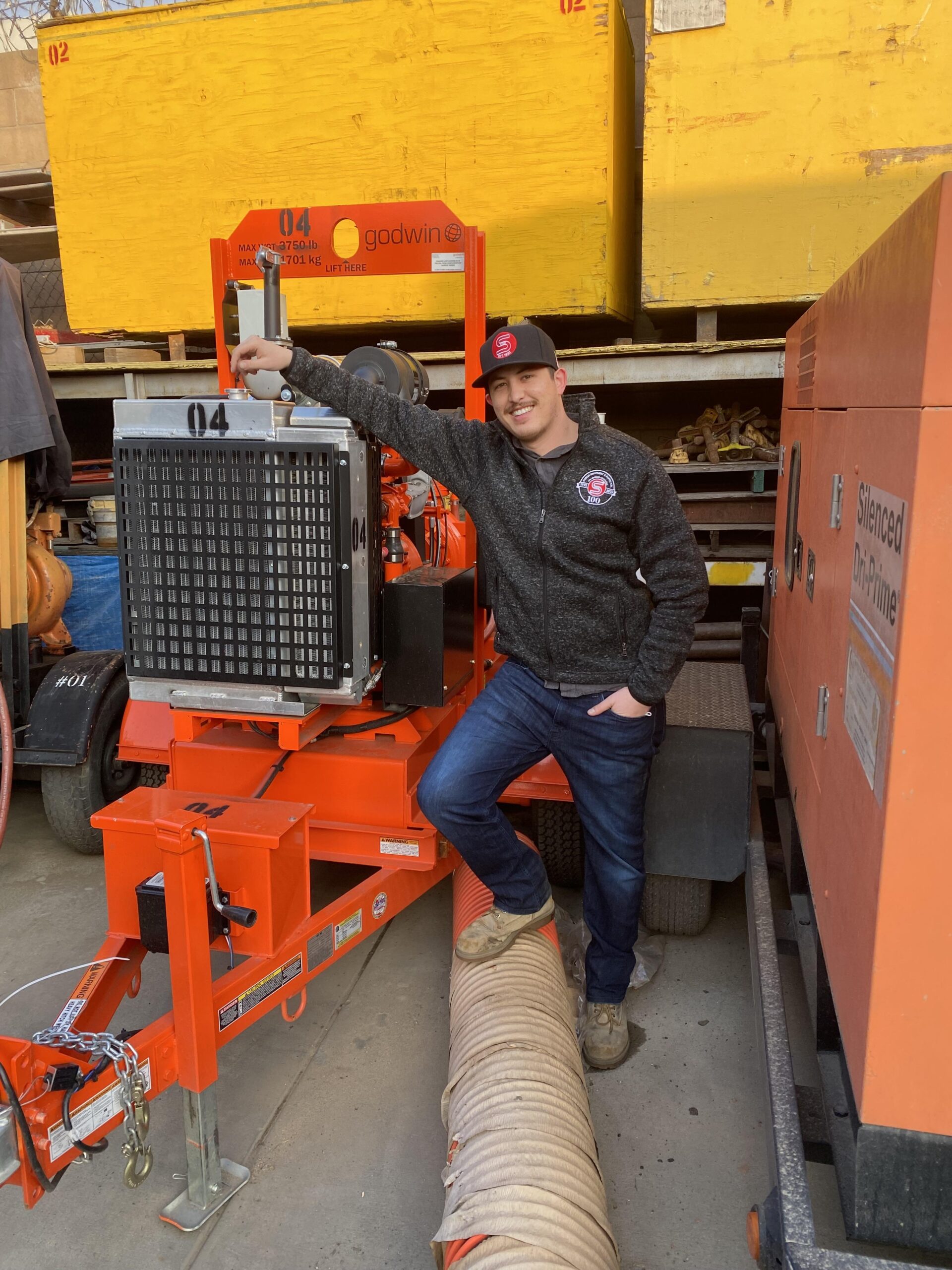 Tim Markonich beside a 6-in. bypass pump.
While the company uses existing manufacturers for its pipe, plug and testing equipment, it also makes or works with manufacturers on modifications to that equipment, so those items are "more reliable and easier to use," Tim says. "We take what the manufacturers make and improve it or work with them to help design a custom product. For example, they might supply us with a gauge setup. We would take that gauge and calibrate it. We might add an additional redundant safety element to it and might add a modification — anything to do with safety or making them easier to use with the same or better results. That could include adding a QR code so the customer can receive the manufacturer's safety instructions directly from the product."
What has made the company such a force in this segment of the industry can be attributed to three features, Tim says.
Speed. "We can respond 24/7 to emergencies. When it's not an emergency, we are talking, depending on proximity to us, same-day or within-the-hour deliveries from the first phone call, which is unheard of in our industry. We have oriented our business to be so efficient that we can respond faster than most other people. It is because of the way we have set up our rental systems," he says.
Being family-owned-and-operated: "Our employees know that all revenues go back into the company and to the employees who work here. We have more flexibility as far as pricing, customization of orders and billing procedures. We have so much customization available. We are known for that. We adhere to our client's preferred billing procedures, delivery procedures and rental setups. We have a laundry list of notes on the customer accounts. We pride ourselves on the attention to detail and ensuring that mom-and-pop plumbing shops that buy two plugs from us a year get the level of service as the big guys who buy 200 plugs from us a year," he says.
Reliability: "We have what you expect us to have in stock and ready to go. We are ready to respond. Beyond that, all rental products we deliver have been tested. We test every product each and every time after it comes back — whether it is a small 6-in. pipe plug up to a 96-in. pipe plug. Safety is huge to us. Everything is tested after each rental and is logged and maintained. Our attention to detail with our pipe plug and testing equipment is second to none. That means you know when you get to the job, if you have an issue with a pipeline test, it is related to the pipe and not our equipment," he says.
For the Markonich family, the ability to "supply our customers with the equipment they want and need to keep them safe is one of the most satisfying aspects of being in business all these years," Tim says. "We are furthering the effort of good construction and keeping everyone safe. We rent shoring equipment to keep trenches from collapsing on workers. The testing equipment we maintain and rent ensures our utilities are installed properly and that our taxpayer dollars will pay dividends to future generations. The equipment we deliver saves lives and keeps the economy going."
According to Tim, the company couldn't have been so successful all these years without the dedication and commitment of their employees and customers. That is why in March 2022, the company is planning a big celebration to honor both groups.
"We are planning a lot of fun employee compensation activities and offering everyone Stemar apparel and merchandise. Then we will invite our customers to a big appreciation event in our yard with food, music and prizes — something for everyone," he says, adding that his family "feels so fortunate to have the opportunity to carry on this legacy started by my great-grandfather. It has been about maintaining and improving upon what my predecessors have done," he says.
---
Qualifying customers and implementing 'Stenglish'
How does a company thrive for 100 years? For the team at Stemar Equipment & Supply Co., Los Angeles, it involves many of the traditional aspects one could imagine — offering products that customers need, putting safety at the forefront and more. But there are a couple of other unique aspects that have made it a well-oiled operation all this time. They are qualifying customers and implementing a company shorthand known as "Stenglish" to make sure orders are uniformly placed and communicated in a timely fashion.
Left to right: Isaiah, Kevin, Steve and Steven Markonich.
"We don't let just anyone come and rent from us," says Tim Markonich, general manager, who, along with his father and two brothers, runs the family operation. "Our base of customers has to adhere to the safety instructions and properly use our equipment. One of the biggest things we do is that we qualify — make sure our customers understand that they have to review and understand the safety instructions — before they rent anything from us. Pipe plugs, when used improperly, can kill people. As a company that has rented and sold these products for all these years, we have not had a single death or injury from any of our pipe plug products. That speaks to our equipment being maintained in good condition and our customer base."
The company also has implemented a rental system that involves using "Stenglish," or "Stemar English," Markonich says.
"As soon as the rental agent takes the order, it immediately runs through our internal page system. We call it 'Stenglish.' For instance, an order might be listed as needing eight to 10 double-head bypass, 9 ft. of hose on a truck for delivery ASAP with 25-ft. lines. No one who doesn't work here would understand this English. This 'Stenglish' that we teach our employees — the way we list orders — allows for accuracy and speed. Immediately after they take the order, before they even write it up in the system, they page it out to the warehouse. You have everything going at once. You have the driver prepping the truck, the warehouse guys prepping the equipment and putting it on the truck, and the rental agent is prepping the rental contract. Once we take an order, everything is happening at once. From taking the order to leaving with the order on his truck, we are talking about as little as 15 minutes. Then the driver is in my office checking for delivery," Markonich says, noting that it is all about communicating effectively so everyone knows what is being ordered, what they need to prep and deliver to make it to the customer in record time.