Ohio event rental operation celebrates 35 years
In 1987, Gene and Lyn Buckland, who had built careers in the hospitality industry, decided to buy a former bakery, pastry and catering company in Toledo, Ohio, with the help of Lyn's brother, a commercial real estate agent, and turn it into a family-run event rental operation. Over the past 35 years, Meredith Party Rentals has grown and thrived in large part due to its expanded view of family.
Opening as Meredith Party Rentals because Meredith was part of the bakery company's name and had become so recognizable in Toledo, the business began with limited inventory.
"We started with two 20-ft.-by-20-ft. tents, some tables, chairs and all this catering equipment. My mom ran it by herself to begin with because my dad needed to keep his day job as a regional manager for Pizza Hut if this venture didn't work out," remembers Michelle Fairchild, the Bucklands' daughter, who, as vice president, runs the day-to-day operations of the business.
"Luckily, my dad said they knew within the first couple of months that they would be OK, so he soon quit his day job. I think I was 10 years old at the time and still remember going down to the shop with my sister to clean glassware and flatware."
As the "Meredith" name became known for event rentals, business grew. "Today, our inventory spans from concession equipment to everything except flooring and porta-potties. We have at least 60 tents, including many 60-ft.-by-180-ft. tents. We do some of the biggest events in northwest Ohio and southeast Michigan. We cater to everyone — event planners, brides, homeowners and such. We do a lot of home-based weddings and graduations to other parties. We also do tons of festivals and church events and are very heavy corporate," Fairchild says.
To accommodate this growth, the company has expanded its operation over the years. Their large facility, which formerly was used to repair trucks before they moved into it about 10 years after starting the business, gave them close to 18,000 sq. ft. of space. "About 10 years ago, we added another 20,000 sq. ft. to our building, and for the next four years doubled the size of every department," Fairchild says.
Staffing increased, too. More and more family members became part of the operation over the years. Today, the "family part" of the business includes Fairchild, her husband, her father, her brother-in-law, her son and daughter, her uncle, her uncle's grandson and her cousin's son. "While five of us are year-round, when the season hits it's everybody come in and help," Fairchild says with a laugh.
Other, non-related employees also joined the team. "We have 11 core staff year-round, but the employee count expands during our busy season, which runs from April through October. During that time, we run between 40 to 50 employees," she adds.
For Fairchild, the hallmark of her family's rental operation has been its concept of family and how that idea has been put into practice.
"The big thing for us is that you are family even if you aren't related. The people who work here are family. Most of my core employees have been with the operation for 15-plus years, with some being here 20 or 25 years. Once they are here, they don't go. We are very much all about their needs, whether that be vacation time, sick time and such. If something is going on in your life, you take care of it. Family comes first. Your family is our family. That has always been our motto. It has gotten us a long way. Even when someone could have gone somewhere else for more money or even more benefits, they stay with us because they wouldn't have had that caring that we give," Fairchild says.
A case in point is that the company has an employee who had to take a year off. "We have just figured it out. We all have pitched in — each taking a part of her job. That is how it has always been. That is why, I think, we keep people," she says, noting that "our customers are our family, too. We have customers that I have known longer than some of my family."
While family plays a major role in the operation, Fairchild didn't always know whether she wanted to make her career in the business.
"I went to college to take business classes. It was around my freshman/ sophomore year in college when we moved from our tiny building into this big, giant facility around the corner, which we are still in now. It was around 1997. I was part of that move, which just kind of sparked something in me. I could see what was going to happen. It was a blank slate and I could see it," she says, adding that the moment made her realize event rental was what she wanted to do.
A test of that commitment came when she was 21. Her father came to her with a unique request. "I was a sophomore or junior in college. He said, 'So, what do you think about running an entire linen business?' I said, 'Excuse me?' I was 21 years old. He said he had this opportunity — that one of his friends who owned a linen business needed to take care of her ill husband and didn't think she could care for him and run the business too. My dad said this friend wanted to bring the business opportunity to him first. He said, 'It just made sense. This would just be an addition, but I would have to run it.' I said, 'You want me to run a business and go to college, too?' He said, 'Sure, why not?'"
So, when Fairchild was 21 years old, her father bought the small linen business and she ran it by herself in a different location. "It was me and another girl. We did just linen rental to everywhere in town. It was nicer linen than what you got from the big box places, which we had been using prior to purchasing the linen company. We did everything, including the processing," Fairchild says.
As the linen business grew closer and closer to the Meredith business, "it was becoming silly to have two different buildings, so my dad decided to bring the linen business into our building. We remodeled truck bays, expanded our linen inventory and installed a racking system with color-coding for size. We still ran the businesses separately for a little while and then merged them. Now that is one of the biggest parts of our business," she says.
Once Fairchild proved she could juggle all these aspects successfully, her father continued to trust her with more and more parts of the business until she eventually took over the day-to-day operations, allowing her father to semi-retire.
It hasn't always been smooth sailing. "During the 2008-2009 crash, no one had money and we lost all our corporate events, but people still got married, still had graduation parties, still had baby showers and funerals. We kept ourselves diversified, so even in the downtimes we were still able to stay in the mix of everything," Fairchild says.
The coronavirus (COVID-19) pandemic shutdowns were devastating to the business. "The unfortunate part is that we had to lay off some employees. Some had been here a long time, which was awful because they are our family, but we had to let them go just to get by. We did tents for testing stations. We tried to keep just a few of our core people here. We got through it with PPP [Paycheck Protection Program] money. If we hadn't gotten that, I don't think we could have made it. There just wasn't enough out there," she says. "Fortunately, we have been able to bring back 80 percent to 90 percent of our people. Now that we are back, we are so busy — just trying to keep our heads above water."
Like other rental operations, the disruptions that occurred after the pandemic began have been challenging. "On the labor issue, we have found a niche of high school and college kids who are coming home for the summer and want to make a lot of money quick, so that has helped with our seasonal help. With the supply chain, I have the parts for a tent, but I can't get the tops because they can't get the vinyl. I also want to buy a stake puller. When I was at The ARA Show™, I told the sales rep that I was ready to buy, but he said he can't get one part because it is made in Ukraine, so I am on a waiting list. And regarding gas prices, we have figured that our costs have increased more than $10,000 over a specific time frame. Now we are charging a delivery fee on everything. We also are doing delivery minimums," she says.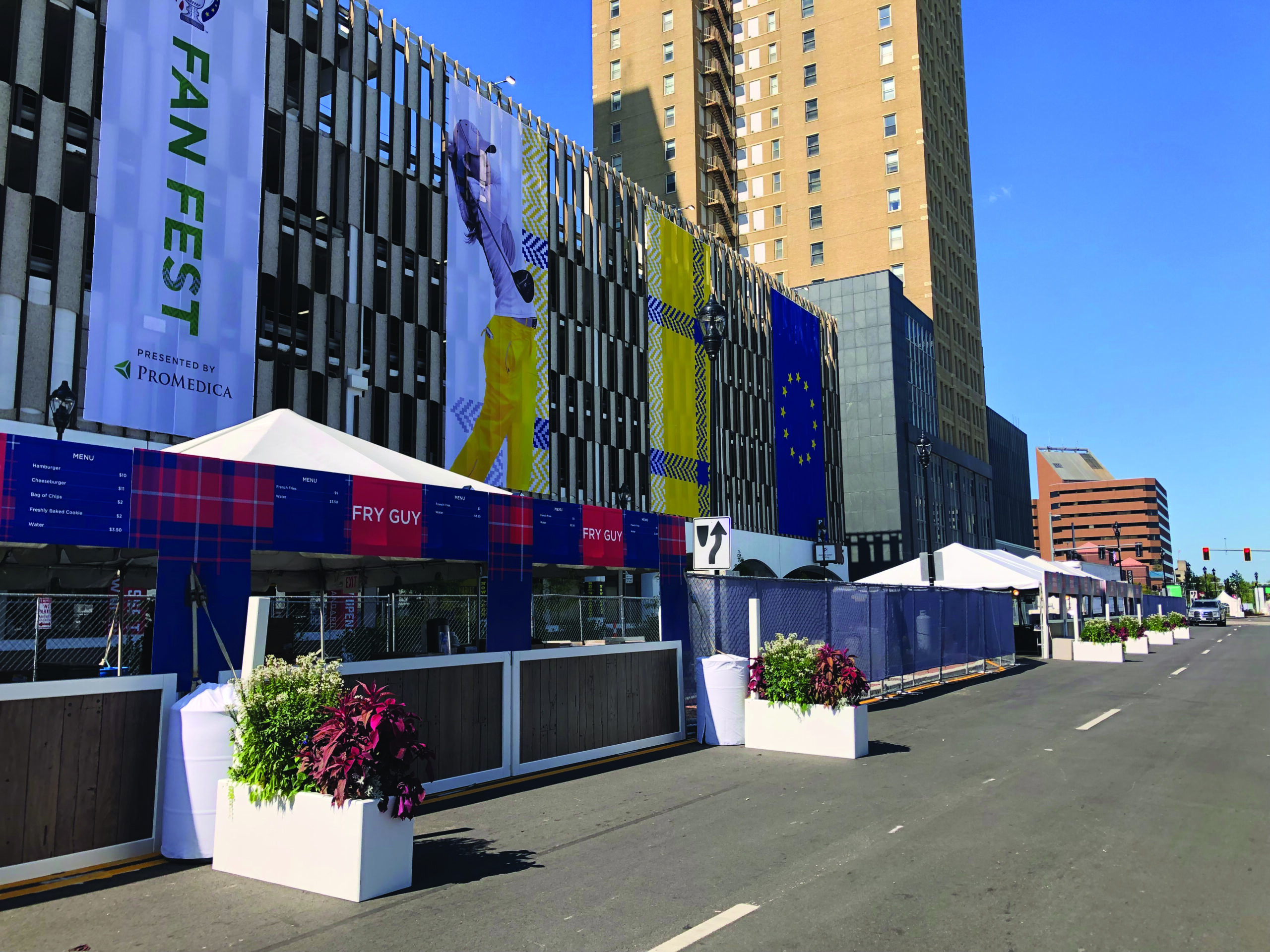 Even with all the difficulties, Fairchild loves the rental business.
"99.99 percent of the time, event rental is a lot of fun. People are coming in here to celebrate joyous occasions. It is fun to help people figure out what they need. They get so excited. We love it that we can make people happy, and it is satisfying to look back and say, 'We did that,'" she says.
One event that stands out because it brought together the entire Meredith team — as well as other Toledo rental operators — was work on the Solheim Cup.
"This is a giant golf tournament — the women's version of the men's Ryder Cup. Golfers from all over the world came here to little Toledo, Ohio, for this event last summer," Fairchild says.
Again, Fairchild approached it like a family would — working together as a team to accomplish a goal. "Our operation was in charge of all the logistics and outsourcing. I was the coordinator with the LPGA (Ladies Professional Golf Association) and a major client of ours who had the opening ceremonies downtown. This event would have never come together if I didn't have these relationships with the other rental companies in town. We all worked together to pull this off. Our operation literally shut down for three weeks just to service that tournament. It was the biggest and hardest thing we have ever done. We worked 18-hour days, but I can look back and say, 'We did that, so we can do anything.'"
---
ARA has been an important resource for Ohio rental operation
In 1987 — the same year Gene and Lyn Buckland started Meredith Party Rentals in Toledo, Ohio — they joined the American Rental Association (ARA).
"My parents were friends — actually went to high school with — the owners of another rental company that was just down the street from us. They did tool rental and served as a great sounding board to my parents, who were just starting out. The owners of this company were ARA members and got us involved. My parents did a lot of Region Five activities with them," says Michelle Fairchild, vice president of operations at Meredith Party Rentals.
The involvement started at the local level. Gene became a board member of the local Northwest Ohio Rental Association, even serving as president from 1995-1996. He also was a member of the state ARA of Ohio board from 1996-1998.
Fairchild says they loved going to The ARA Show™ as a family. "It has been a way for us to see all these products and actually interact with people. I love going to the classes, too. It has been wonderful to bounce things off other people through all the networking events."
When not at the show, she continually reads Rental Management for product and trend ideas.
"I always look through the magazine to see what is new. I tear out pages to look at them later when I have time," she says. "I also love the ARA Facebook Event Rental page. We interact with those folks all the time. It is a great way to get ideas," she adds.