Electrified equipment and battery energy storage systems
By Mark Wilton, Sunbelt Rentals
November 1, 2023
Construction and maintenance of energy-intensive facilities such as data centers and warehouses can be a challenge for facilities managers and electrical contractors as they think through the cost and environmental impact of the energy required to power these operations. Many are discovering that diesel generators combined with battery energy storage systems (BESS) can help reduce an organization's carbon footprint by lowering construction fuel needs and emissions. The right generator and BESS combination can provide enormous environmental and economic benefits, making a construction project more sustainable while also lowering the amount of noise pollution it generates. Paralleling generators to create micro-grids can also optimize runtime efficiency for the project. Notably, many are turning to equipment rental companies, such as Sunbelt Rentals, to provide correctly sized equipment for a sustainable, turnkey solution for these large-scale builds.
It's important to reiterate that a BESS does not generate power. It is an innovative energy management solution as it stores energy for when it is needed to carry the load. A BESS unit also does not necessarily need to be paired with a generator — it can be used as a standalone energy source. Either way, it is an innovative solution to reduce fuel consumption. As more equipment becomes electrified — anything from electric vehicles to site equipment like telehandlers and mini excavators — BESS units offer convenient charge points, so an energy source can be placed where it's needed and have recharged batteries at a convenient time. Understanding how to use hybrid energy solutions can result in substantial savings in generator runtime and preventive maintenance service as well as fuel use and delivery — all reducing carbon dioxide (CO2) emissions.
Power management with BESS units can not only contribute to the project's sustainability goals, but also help the general and electrical contractors efficiently utilize their resources with added flexibility of placing a power source closer to the work. A sustainable energy management approach. Adding a BESS to each generator helps with sizing the generator to the load, reduce generator runtime, fuel costs and overall emissions. The excess power produced while the generator runs recharges the BESS batteries. When the generator is switched off, the BESS supplies the load. When the load exceeds what the hybrid setup can support or when the batteries are depleted, the generator resumes operation. Advanced telematics allows a BESS to automatically manage power from various sources to ensure the greatest energy efficiency, lowest maintenance, and least environmental impact.
For example, enriched data provides information on peak demands to help companies correctly size generators. The BESS can also support the generator during periods of high demand or dynamic load conditions by monitoring the electrical load. The generator and BESS communicate and share control of operations. As a result, switching between the two is seamless when the load exceeds what the hybrid can support or when the batteries are depleted. It's also possible to set the unit so that the generator runs only during daylight. This, in turn, helps construction firms be good neighbors by reducing construction noise in dense cities and suburban neighborhoods. Remote communication lets operators monitor energy use and oversee maintenance from any location across North America.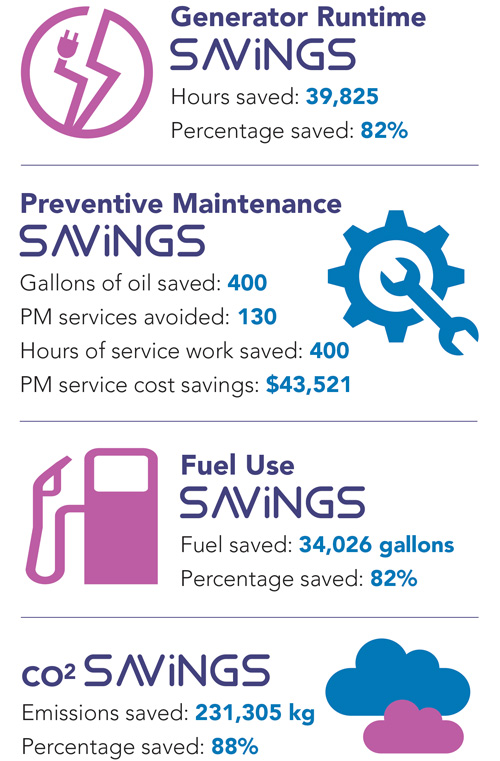 With an online dashboard, operators can easily track environmental and economic payoffs. It is very important that telemetry is used to monitor today's customer experience and provide them with reports on the performance. Then, the equipment provider will have the ability to adapt the energy management solution for changes in needs, with each application. The advantages of proper sizing and setup. Pre-installation considerations include qualifying the load data to better optimize the solution. Generators perform best when running under high load, therefore, it's about correctly sizing the generator and, where appropriate, utilizing a BESS unit as energy management needs change. For instance, during the day, there might be a higher load the generator should handle versus a lower load at night. The advantages of the battery system carrying that load are numerous. It is efficient for the generator use, it often reduces the generator runtime significantly, which can be a 50 to 90 percent reduction in generator run-time. Additionally, a BESS unit runs quietly, which is good for the environment and the neighbors, leading to a longer workday for the site or facility.
Lastly, it requires less fueling for the generator, which means less trips to refuel and less vehicle traffic on site. When it's time to set up, using a combination of high-power generators and BESS units requires strict adherence to correct cable design and layout procedures to ensure reliability in both generator and load bank applications, and to avoid equipment damage or personal injury. Less-than-optimal cable routing reduces current-carrying capacity and increases the possibility of a short or fire that could result in electrical shock and burns. Electrical contractors should ensure that the cable they are using is durable: Double insulation ensures cables meet the highest safety standard. Rigorous testing during manufacturing certifies performance. Insulation integrity meets the highest quality standards.
Additionally, partnering with the rental equipment provider to do in-house quality control testing and inspection before installation is a crucial step. Reducing fuel use and emissions in a real-world application. Sunbelt Rentals recently partnered with a large construction company and the owner of a largescale data center on a pilot project that explored a sustainable approach to a mission-critical data center build in the Midwest. This partnership allowed the contractor to reduce diesel fuel needs, lower greenhouse gas emissions, and drastically cut service hours and trips made — saving time, money and emissions while supporting infrastructure needs for thousands of workers at the job site.
The project owner wanted to determine whether adding BESS units to the generators addressed sustainability concerns well enough to justify the rental cost. So, during a six-month pilot program, the owner and general contractor evaluated a combination of generators and BESS units, judging success by how well an approach helped cut fuel consumption and greenhouse gas emissions. To supply the power required, Sunbelt Rentals provided a total of fifteen 20- and 56-kW generators. The 56-kW generators helped meet demand during peak usage but dropped back during low loads. The 20-kW generators are common for infrastructure applications. However, in many cases — including this project — there are times during the day when these units are called to provide much lower kilowatts.
Sunbelt Rentals added a BESS to each generator, creating a hybrid solution. This configuration helped reduce generator size, runtime and fuel costs, as well as overall emissions. Meanwhile, the silent power gave everyone from construction workers to residents a break from the noise. During the six-month pilot period, the data center project's general contractor reported substantial reduction in generator runtime and preventive maintenance service as well as fuel use and carbon 59 dioxide emissions. This meant that power management with BESS not only contributed to the project's sustainability goals but also helped the parties involved realize significant time and cost savings. The learnings from this pilot project has propelled other data center builds that have lofty sustainability goals. Take the next step toward electrified construction. By tapping into the expertise and support of an equipment rental provider, contractors can work towards achieving carbon-reduction goals and more with hybrid solutions that combine electrified equipment and energy storage systems.